Wedding restaurant
Menu
We offer several options for servicing the wedding celebration.
Banquet is a dinner in honor of the couple. With this format of service, guests sit at tables, food and drinks are brought by waiters, service personnel picking up dirty dishes. Dishes can be served on a table on a joint plates or portions for each guest. In most modern banquets, it is customary to serve food on big plates. With such a cover, the guests have more freedom in choosing dishes. It is very difficult to guess the preferences of each guest.
Reception (buffet) is a type of meal serving, when guests eat standing, choose their own drinks and food, which is offered on tables, individual places and name cards are not provided. With this type of service cutlery may be absent or guests may use a fork.
The menu is made up specially for you. We take into account your gastronomic wishes, your tastes for drinks, as well as the budget of the event. Chef of the restaurant "Ukraina" gives recommendations on the number of portions per person based on many years of experience and standards. We do not set a minimum limit for your order. We worked on the menu of weddings with elite alcoholic beverages, which were ordered specially for event, with a vegetarian menu for a wedding, non-alcoholic menu wedding. All your wishes will be taken into account.
The price is individual for renting a restaurant. Practice shows that at the moment, the banquet menu with alcoholic and non-alcoholic drinks, cold snacks, hot snacks, main dishes and side dishes will cost about 1300 UAH per person.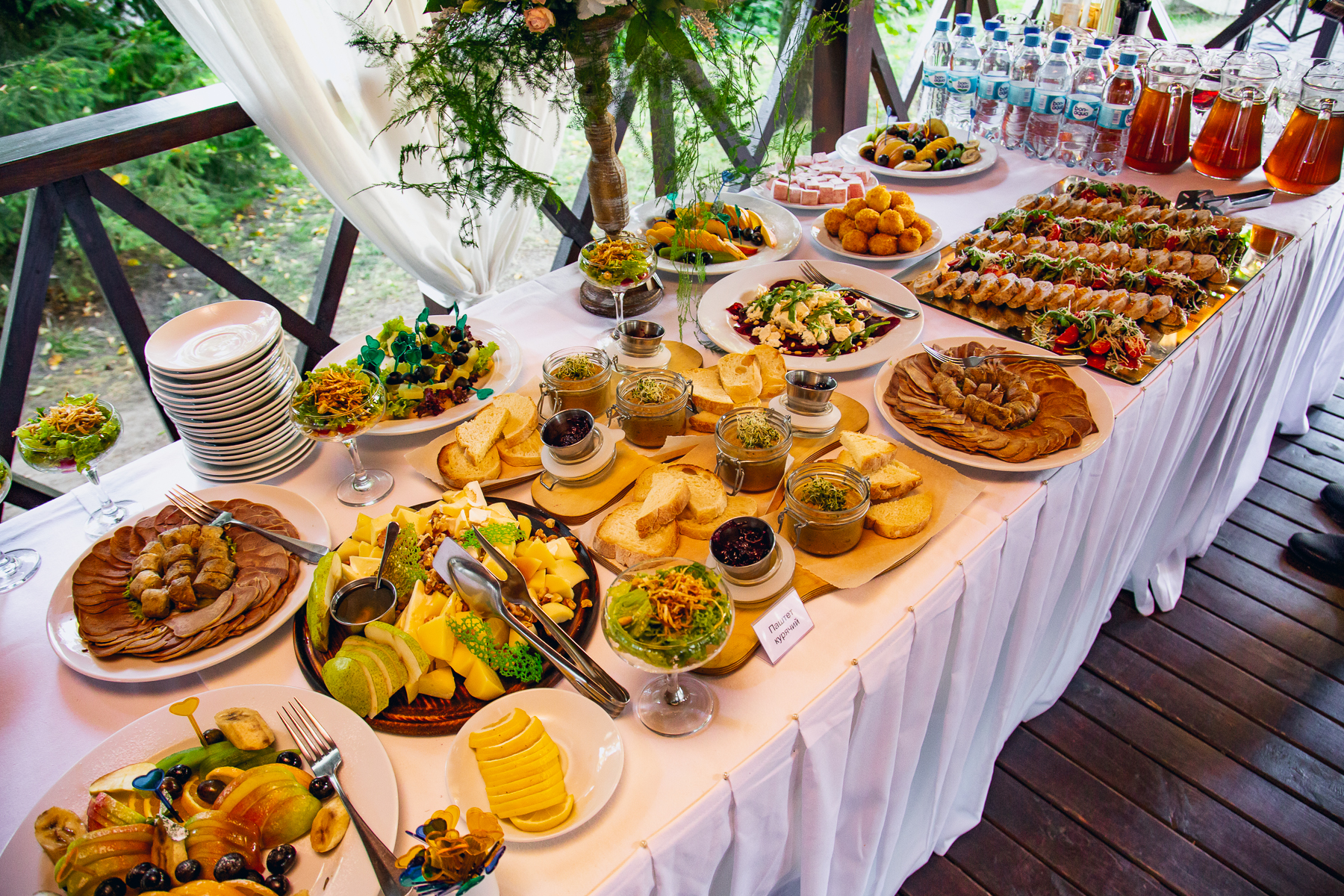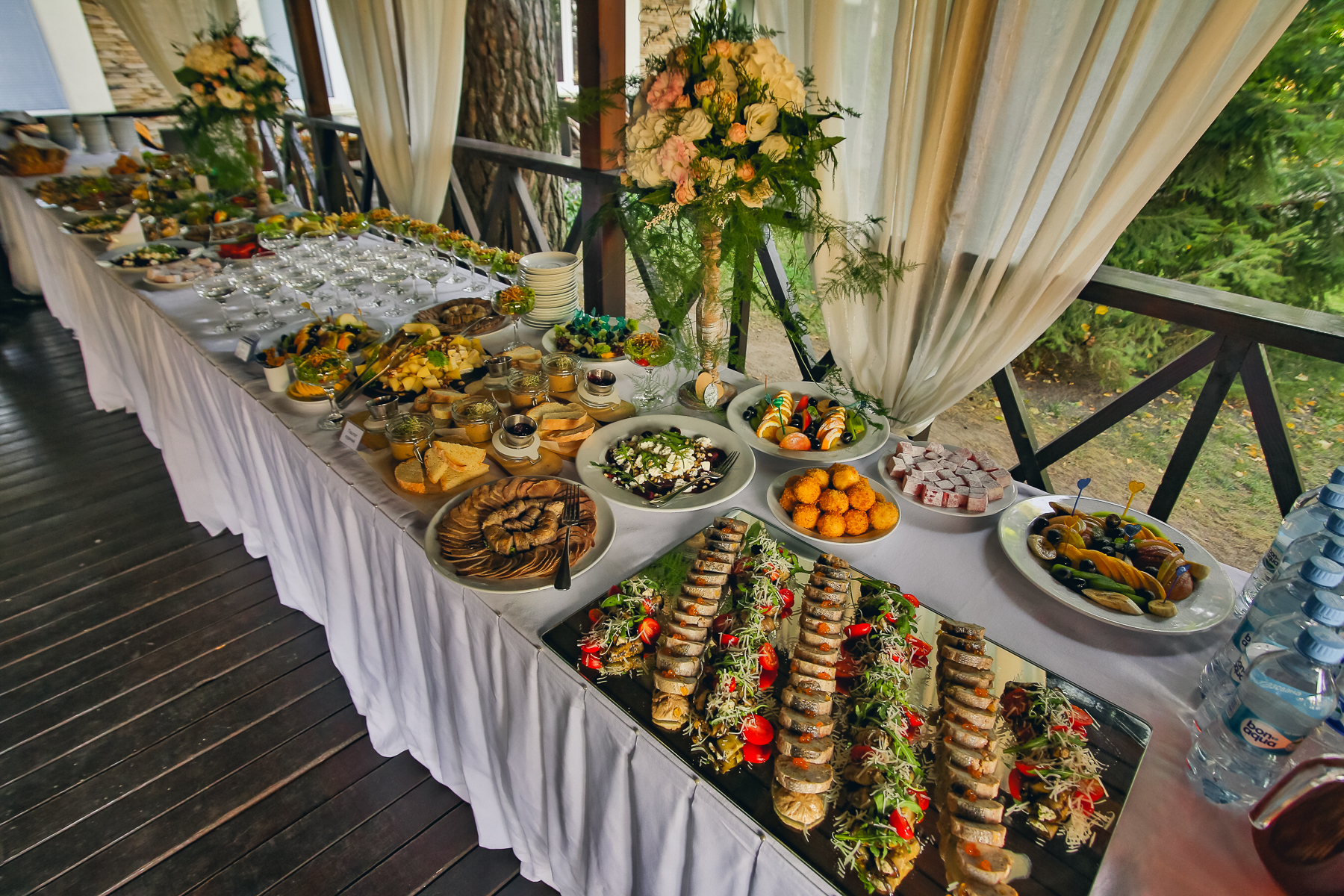 To order restaurant for the wedding in Cherkasy
Agreement
In order to book a date for you, we sign a contract with you. Under the contract, you deposit 5000 UAH, this amount goes in the future to pay for your menu. The given amount is irrevocable if you cancel the celebration of your wedding or change celebration to another date.
Promotions
The "Wedding Garden" action operates in the "Ukraina" hotel. We prepared a surprise for the newlyweds – a yard for the wedding ceremony in our garden and a room from the hotel "Ukraina" as a GIFT! A 10% accommodation discount is also available for your guests!
To participate in the action you need to order a wedding banquet in the restaurant "Ukraina" for an amount not less than 39 000 and not less than 1300 UAH per person. To this sum 10% service charge of teh restaurant in included.
Wedding banquet hall in Cherkasy: additional services
Rent a yard for wedding
For couples who do not plan a big banquet and do not participate in the "Wedding Garden" Promotion, but simply want to hold a marriage ceremony in a beautiful picturesque place, renting our lawn will cost 1950 UAH. The rental includes the use of our garden, the cleaning of the territory after the celebration, the use of the hotel infrastructure. In addition to renting the territory, you haev to order a minimum cataring for a person 350 UAH. The menu is made up for you individually.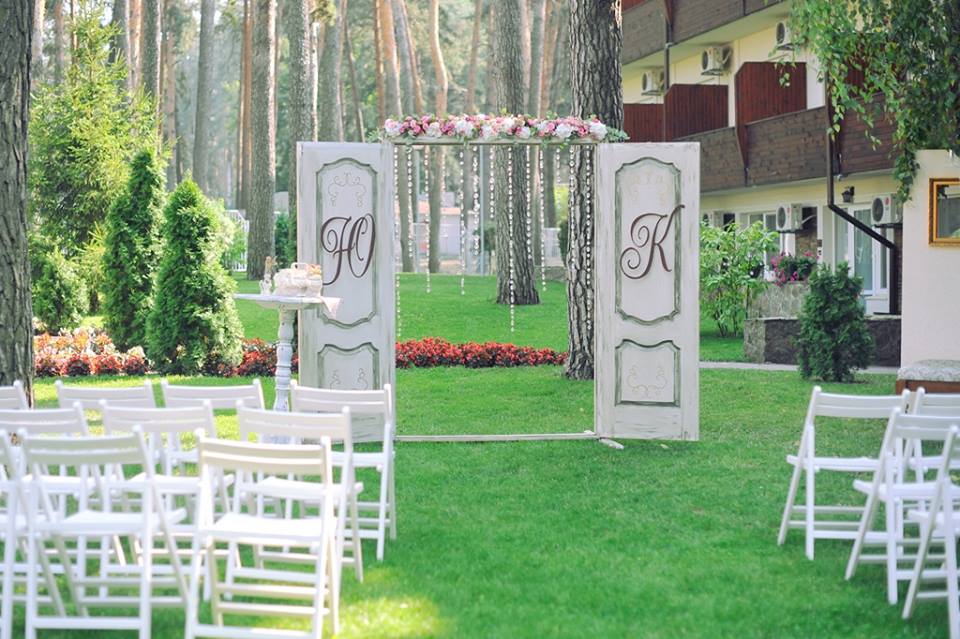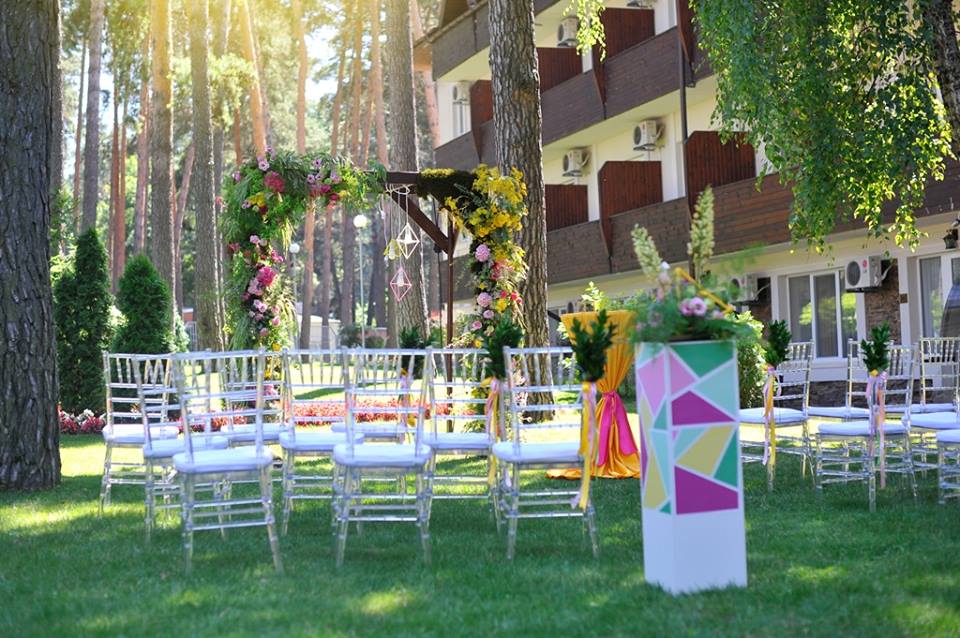 Candy bar
A small sweet dishes on table before the main banquet, especially if there are children among the guests, will be a decoration of your event. Restaurant "Ukraina" will be able to prepare many different delicacies: donuts, eclairs, mafins, cap cakes, cakes, candies, etc.
Relatives, friends, other companies can also prepare for you Candy bar, which will be placed on our territory, this service will cost 1000 UAH (providing a place for your Candy bar).
Decoration of the hall
Restaurant "Ukraina" will be able to offer you to decorate the chairs in the banquet hall with covers.We have available olive-colored covers with white ribbons, as well as white cases with gold ribbons. The cost is 25 UAH for 1 chair. Decoration of the beams of the hall will cost – 600 UAH.
A couple can use the services of their own decorators. Do not forget to inform your manager about it, as the restaurant must agree on all the technical nuances with decorators.
Show program, equipment
At your wedding banquet, you can invite musicians, singers, bands, dancers, etc. We can recommend you artists for every taste, taking into account your wishes. Also you can bring us to the restaurant of the artists yourself. Tell your manager, would you like to find the participants of the show of the program yourself or do you need our help. You will need to add to the budget of the show program 500 UAH, which are charged by the restaurant for the use of its site by musicians, bands, if necessary, to connect to an electrician.
Restaurant "Ukraina" can provide a musical equipment to rest for 1000 UAH.
Wedding cake, wedding bread
You can order a wedding cake and wedding bread in any confectionery, bakery, which you liked. We do not take payment for serving your cake and wedding bread. Be sure to warn us about the presence of the staple layers, if they are in the cake.
Your wedding will be a truly unforgettable event in the Wedding Garden of Ukraina Hotel, filled with the singing of forest birds and the fragrance of flowers, it will forever remain in your heart as a fabulous moment of your life!